The Fourth Graders had a guest speaker talk to them about erosion. Guest Speaker Alex Kurivial explained what erosion was, the different types, and ways to fight against it. After her presentation, she let the students do a demonstration so they could experience first hand how erosion occurs. They dropped water into a sample of soil, blew air into bins of sand, and got to witness the erosion process sped up and on a smaller scale.
On Friday, November 8, the Veteran's Day ceremony was held to thank those who have served or are serving our country. The fourth grade students were able to bring in friends and family members that have served, and the other students were able to submit photos of their loved one for a slideshow. The Clark Middle School Band and Choir worked together and performed the March of the Armed Forces as the photos were shown.
The corporation resource officer, Corporal Jerry Patrick, was the main speaker for the ceremony. He spoke about the time he spent in the Marines and how important it is to recognize veterans year-round and not just on Veteran's Day. He also explained how he sees the drive and dedication in the students that may serve one day.
A few students were able to speak about the history behind the holiday, and the fourth graders got to sing to thank the veterans. The entire school came together and celebrated the people who have risked their lives for the United States of America. The band and choir sang "God Bless the U.S.A." while everyone united and sang along.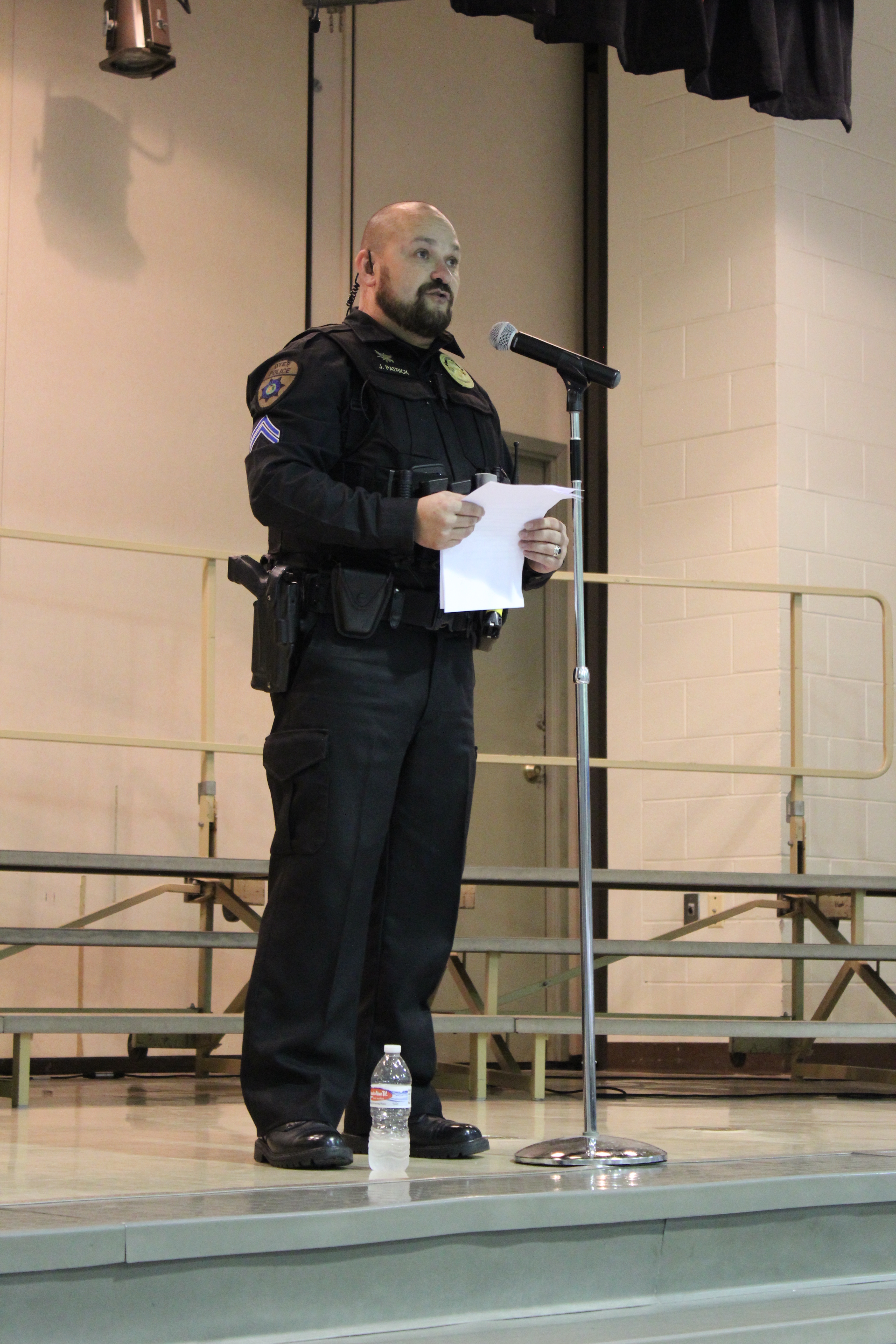 October 6th through 12th was National Fire Prevention week. The kindergarten classes were lucky enough to meet some firefighters and go inside a firetruck. The firefighters taught the students what they can do to remain safe in case of a fire.
The firefighters also explained to the students that the gear does not make the firefighters scary.
"I learned that [firefighters] are not scary because their masks aren't scary." Leighla Sheppard said.
The firefighters showed the students how many steps it takes to put on all of their gear. They also had a race between Firefighter Rob and Firefighter Tom to show how important it is for them to be able to get dressed quickly.
Kindergarten took a trip to the Windmill Acres pumpkin patch. All of the students were able to bring a guest, so the field trip was also a great opportunity for family members to see how their children learn. For one of the stations, the kids and their guest went on a hay ride around the farm. They were also able to choose and decorate pumpkins with funny, face stickers, play on the pumpkin patch playground and shoot through the air on a zip-line swing. The pumpkin patch also had a petting zoo where the students could feed, pet and interact with the animals. The day the field trip took place was the first day two kittens were exposed to the outside world. Snowstorm and Champ were showered with attention by the students. They also enjoyed getting to see and pet newly hatched chicks.
Every Friday Mrs. Hedges' Kindergarten class has Flashlight Fridays.  During this time students use their flashlights to read and explore books on their own. Monday Oct. 8, they held a special edition of Flashlight Fridays with buddies from Mrs. Thompson's 3rd grade class after they teamed up with Mrs. Hedges' class to plan and create pumpkins.
First the kindergarten and 3rd grade teams came up with a plan for what their kindergarten buddy's pumpkin would look like, then they worked together to make that plan come to life.  All through the room you could hear 3rd graders encouraging kindergarten friends to give something a try or letting them know what a great job they were doing.  As soon as they completed their pumpkins they moved throughout the room grabbing carpet squares, scoop chairs, crates, flashlights and books. The room was soon full of excited students reading together.
On Friday, May 11, Mrs. Yothment's class hosted a Mother's Day party. Students brought their moms and had the opportunity to show them things they made along with having food and drinks.
On Friday, May 11, students in Mrs. Ladwig's first grade class invited their mothers and grandmothers to attend their Mother's Day program. After the students performed songs for their family members, they were invited to have refreshments with them.
On April 5, Mrs. Bussey read to her class and explained to them the importance of donating their old items like clothes and toys to places like Goodwill and Salvation Army. She explained to them how it impacted her life when she was younger, and allowed kids to share their stories with her if they have donated things before. Many students in the class had stories to tell about things their families have done to help those who are less fortunate than they are.
Students in Mrs. Bussey's first grade class had the opportunity to Skype with Tracey Butler, the meteorologist from ABC 7 News. Butler showed the students a variety of different skills and the technology she uses during the weather forecasts.
Wierzba and VanLaten Centers
Students in Mrs. Wierzba and Mrs. VanLaten's second grade classes participated in a variety of activities for St. Patrick's Day. The activities allowed the students to have an enjoyable time while also learning new skills and putting ones they already had to use. Some activities included drawing and coloring leprechauns and counting and estimating the amount of marshmallows in a Lucky Charms box.
Students and staff celebrated Dr. Seuss' birthday with posters outside of classrooms, and many classes spent the end of their day watching Dr. Seuss movies.
Parents came out to help their students celebrate Valentine's Day with their in their classrooms. Students decorated boxes for their valentines and had the opportunity to give cards to students in their class
Author Tim Hannig read third and fourth graders his book, "Nerdy Birdy", which was based on events that happened when he was a kid in school. First, the four students had the opportunity to work in two teams and play a game involving guessing words based on clues. The words related to the ideas of nerds and popular kids.
To celebrate the 100th, 101st and 102nd days of school, classes did a variety of activities that also helped them use skills from subjects like math. In one class, students counted out 100 of an item and placed it in bags. Students also wrote down what they would do if they had 100 dollars.
Students and staff show support for those who serve their community in a variety of ways. Throughout the year, police officers from the different towns make visit and speak with the students and get them more involved in their community. In one of the hallways, two flags are hanging for the police and fire departments and underneath both are pictures from different things they've done with those at the school. From bringing in the dogs to doing a toy drive to having a birthday party for Officer Patrick, the students enjoy giving their support.
Students in Mrs. Bailey's second-grade class went to Mrs. Sikich's class and sang Christmas songs to her. Those who had her as a teacher the year before made her cards for the holidays.
Kindergarteners in Ms. Perfetti's class performed for members of their family and sang three songs for them before decorating Christmas trees made out of ice cream cones. The students performed at a nursing home days before, and Perfetti emphasized that while academics are important, she wants students to know that kindness is also.
Students donated a variety of toys and stuffed animals to the different police stations in Lake County that they use as "comfort toys" for children who are shaken up in situations such as car accidents. Instead of just picking the toys up on their own time, police officers from different towns came and spoke to some third-grade classes and took pictures with them.
Ladwig Thanksgiving Program
Students in the first grade class performed a Thanksgiving program in front of their family members before Thanksgiving break.
On Nov.10, a Veteran's Day program was held in the gymnasium for students, staff and the veterans. Prior to the program, veterans were invited to have refreshments in the library. To start off the program, the fourth graders sang for the audience, followed by performances by the Clark Middle School band and choir. Veteran's were asked to stand up when the song of their branch played and both former members and current members of the military attended. Mr. Sean Begley, Lake Central Principal, also came and spoke during the program. Several students also had the opportunity to be in the program by saying a few things during it.
Kolling hosted their annual funfair on Sept. 15. There was many different activities including games, a dunk tank, inflatables, live entertainment and much more for children and their families to enjoy. There was also different opportunities for students to win different prizes and basket with different items in them.
Lake Central School Corporation
8400 Wicker Avenue, St. John IN. 46373
Pathways to Excellence