Students and staff celebrated Dr. Seuss' birthday with posters outside of classrooms, and many classes spent the end of their day watching Dr. Seuss movies.
Parents came out to help their students celebrate Valentine's Day with their in their classrooms. Students decorated boxes for their valentines and had the opportunity to give cards to students in their class
Author Tim Hannig read third and fourth graders his book, "Nerdy Birdy", which was based on events that happened when he was a kid in school. First, the four students had the opportunity to work in two teams and play a game involving guessing words based on clues. The words related to the ideas of nerds and popular kids.
On Feb. 14, students and staff welcomed author Tim Hannig and he read the kindergarten, first graders and second graders his book "Creepy Pair of Underwear." After the reading, hang gave students and staff members the opportunity to ask questions. The students were told to ask their teachers if the question was good, and if it wasn't the teachers gave them a new one.
This year, Kolling hosted the Pro Kids Show. This show teaches students how to be honest and respectful using a variety of stories and magic tricks. From puppet shows to using a teachers ring in a magic trick, the show kept both students and staff entertained.
An art class uses their free time to draw and color using a variety of stencils.
Students in third grade went to the computer lab to watch a NIPSCO presentation and learn about electrical safety. With a small-scale model he was able to show the students what everything looked like and how it functioned.
To celebrate the 100th, 101st and 102nd days of school, classes did a variety of activities that also helped them use skills from subjects like math. In one class, students counted out 100 of an item and placed it in bags. Students also wrote down what they would do if they had 100 dollars.
Students and staff show support for those who serve their community in a variety of ways. Throughout the year, police officers from the different towns make visit and speak with the students and get them more involved in their community. In one of the hallways, two flags are hanging for the police and fire departments and underneath both are pictures from different things they've done with those at the school. From bringing in the dogs to doing a toy drive to having a birthday party for Officer Patrick, the students enjoy giving their support.
Students in Mrs. Bailey's second-grade class went to Mrs. Sikich's class and sang Christmas songs to her. Those who had her as a teacher the year before made her cards for the holidays.
Kindergarteners in Ms. Perfetti's class performed for members of their family and sang three songs for them before decorating Christmas trees made out of ice cream cones. The students performed at a nursing home days before, and Perfetti emphasized that while academics are important, she wants students to know that kindness is also.
Students donated a variety of toys and stuffed animals to the different police stations in Lake County that they use as "comfort toys" for children who are shaken up in situations such as car accidents. Instead of just picking the toys up on their own time, police officers from different towns came and spoke to some third-grade classes and took pictures with them.
Ladwig Thanksgiving Program
Students in the first grade class performed a Thanksgiving program in front of their family members before Thanksgiving break.
Ranich and Bailey Thanksgiving Program
Students in Mrs. Ranich and Mrs. Bailey's second grade classes perform a Thanksgiving program for siblings, parents and grandparents. The students performed multiple songs along with reciting different facts for the audience showing them what they have learned about Thanksgiving.
On Nov.10, a Veteran's Day program was held in the gymnasium for students, staff and the veterans. Prior to the program, veterans were invited to have refreshments in the library. To start off the program, the fourth graders sang for the audience, followed by performances by the Clark Middle School band and choir. Veteran's were asked to stand up when the song of their branch played and both former members and current members of the military attended. Mr. Sean Begley, Lake Central Principal, also came and spoke during the program. Several students also had the opportunity to be in the program by saying a few things during it.
Mrs. Bussey's first graders participate in centers before Halloween. Students had the opportunity to learn while doing fun activities during the day.
Students in Mr. Zak's music class got to play a game for the entirety of their class as soon as they finished their first activity. They had to pass a bean bag to their classmates without dropping it and could only pass it when people were singing. Whoever had it when the music stopped was out of the game and had to sit on the rafters.
In art class, students made a quick and easy project just in time for Halloween. The students cut out pumpkins and put them on a blue paper and got to use different textures on the background. This simple project allowed students to make something before they had fall break.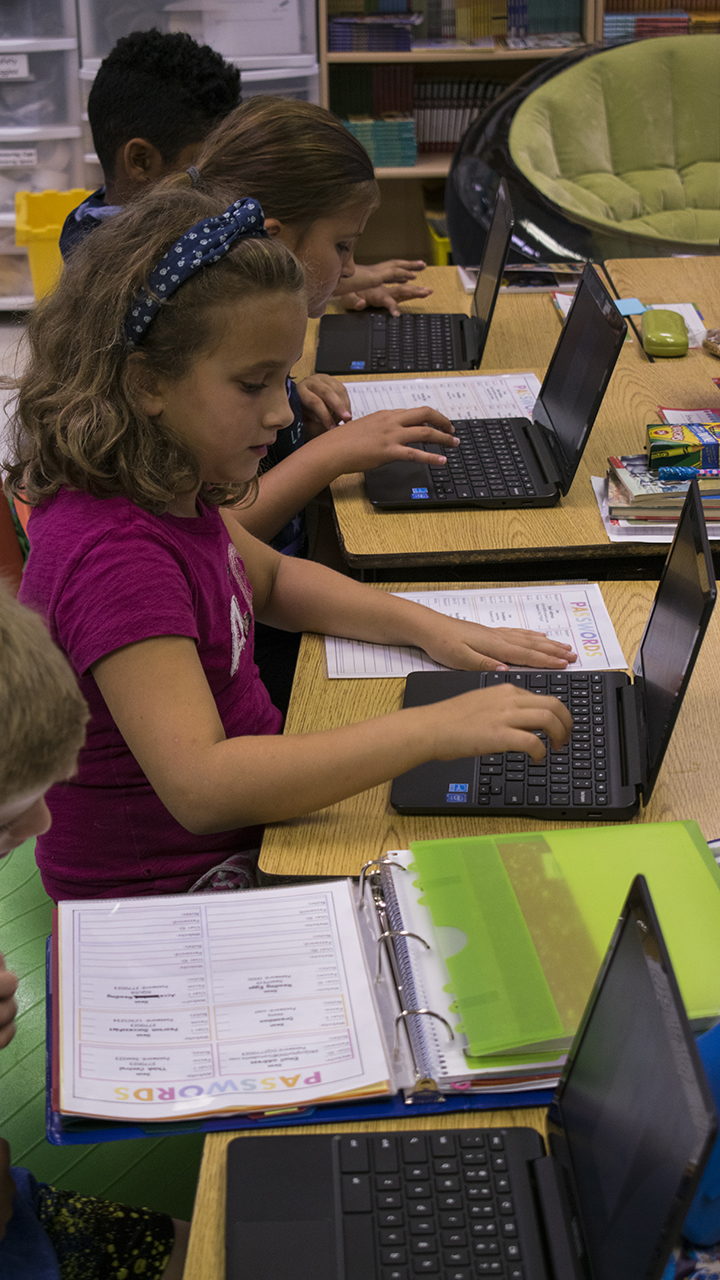 Students in Mrs. Pawlak's third grade class work on Chromebooks for the first time.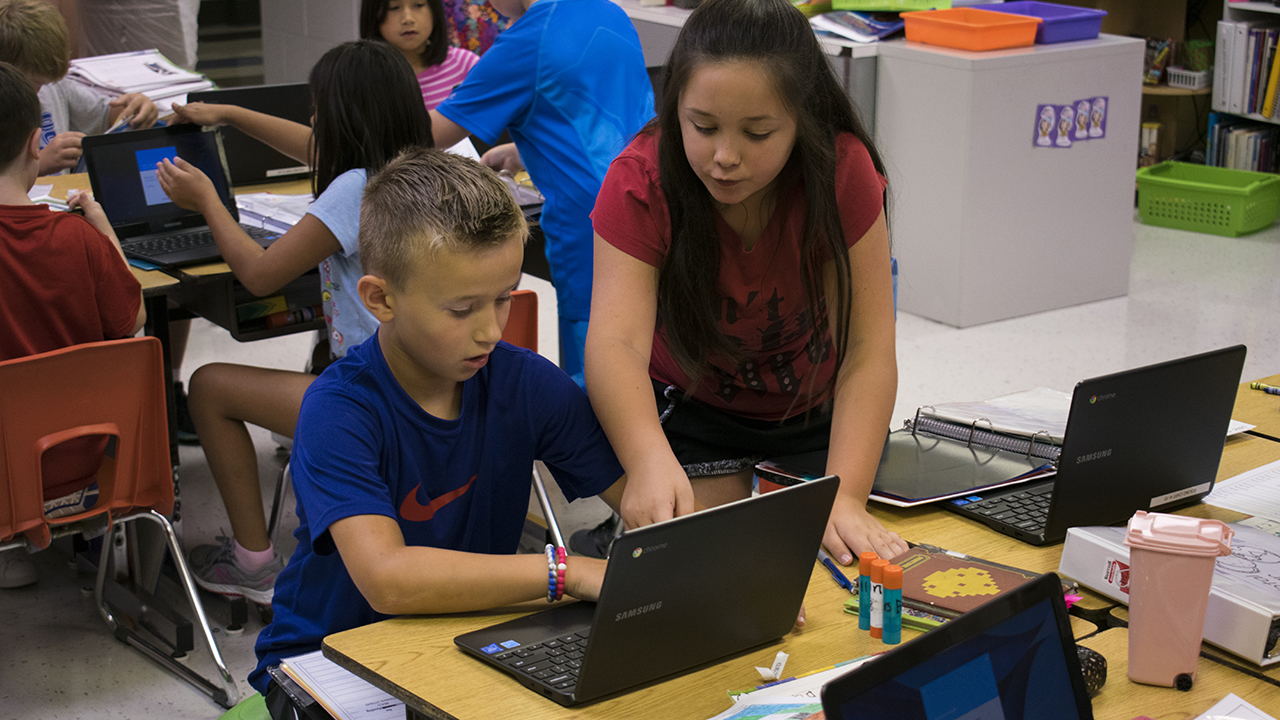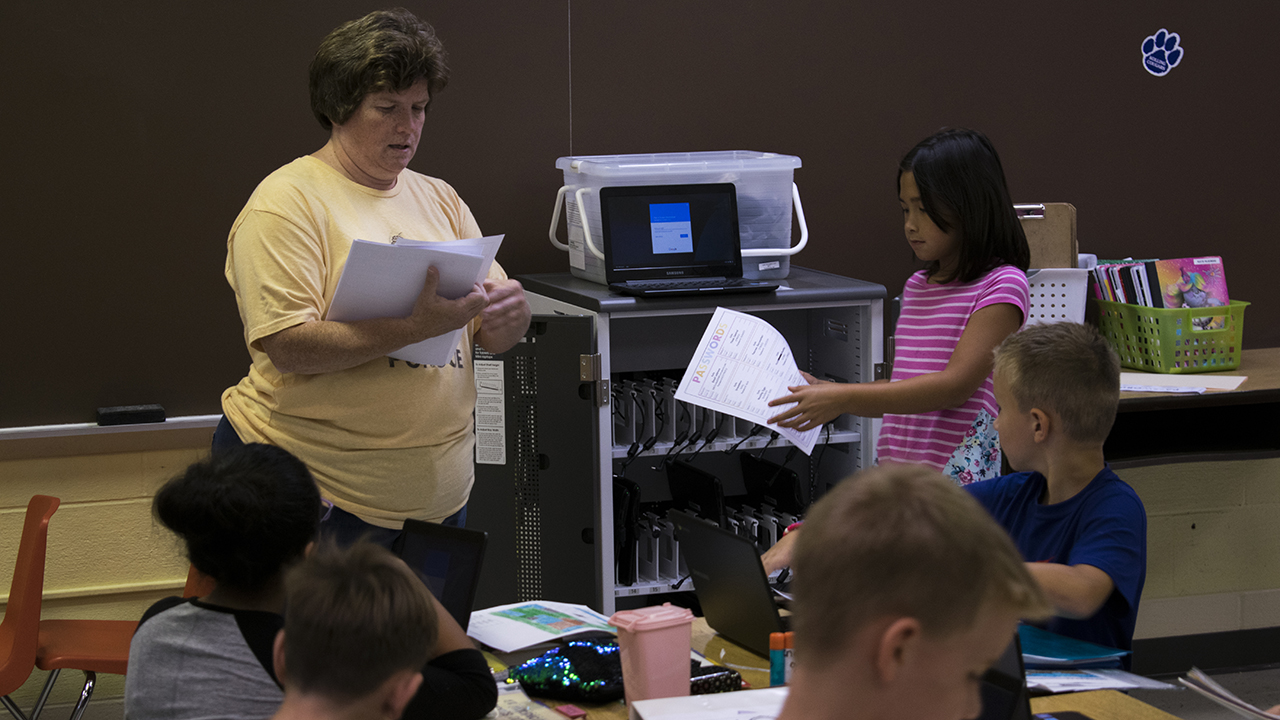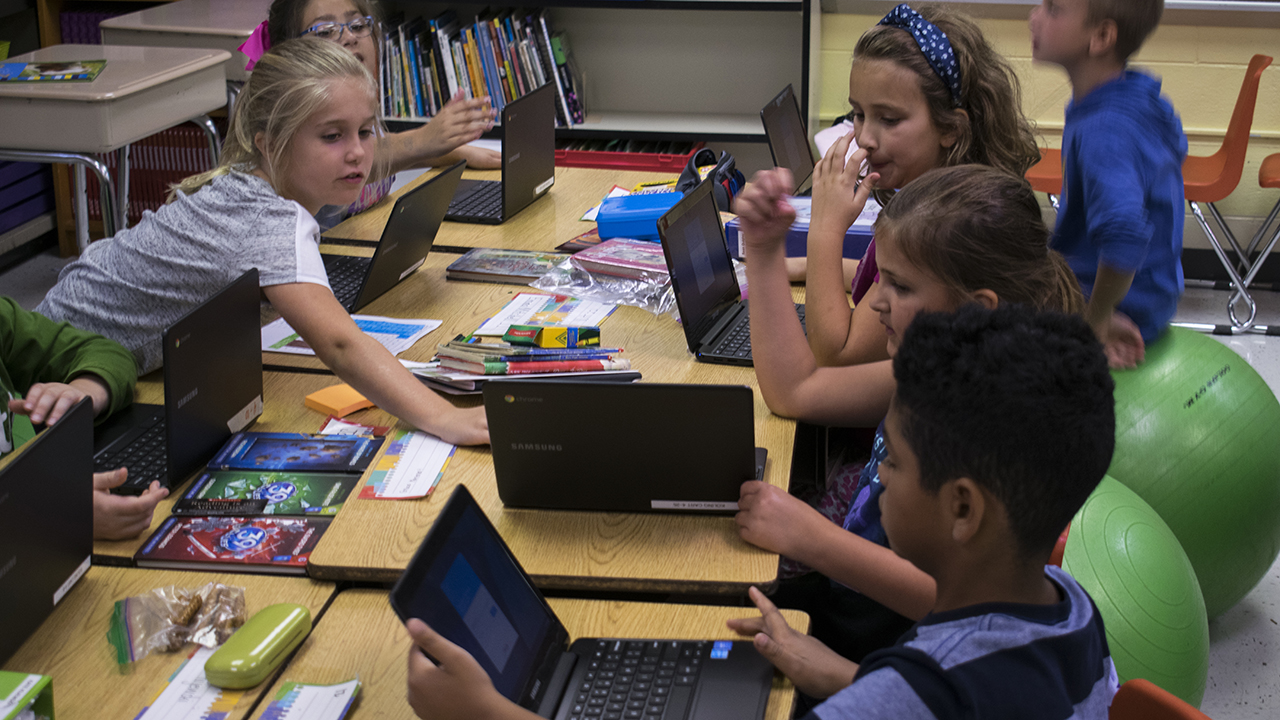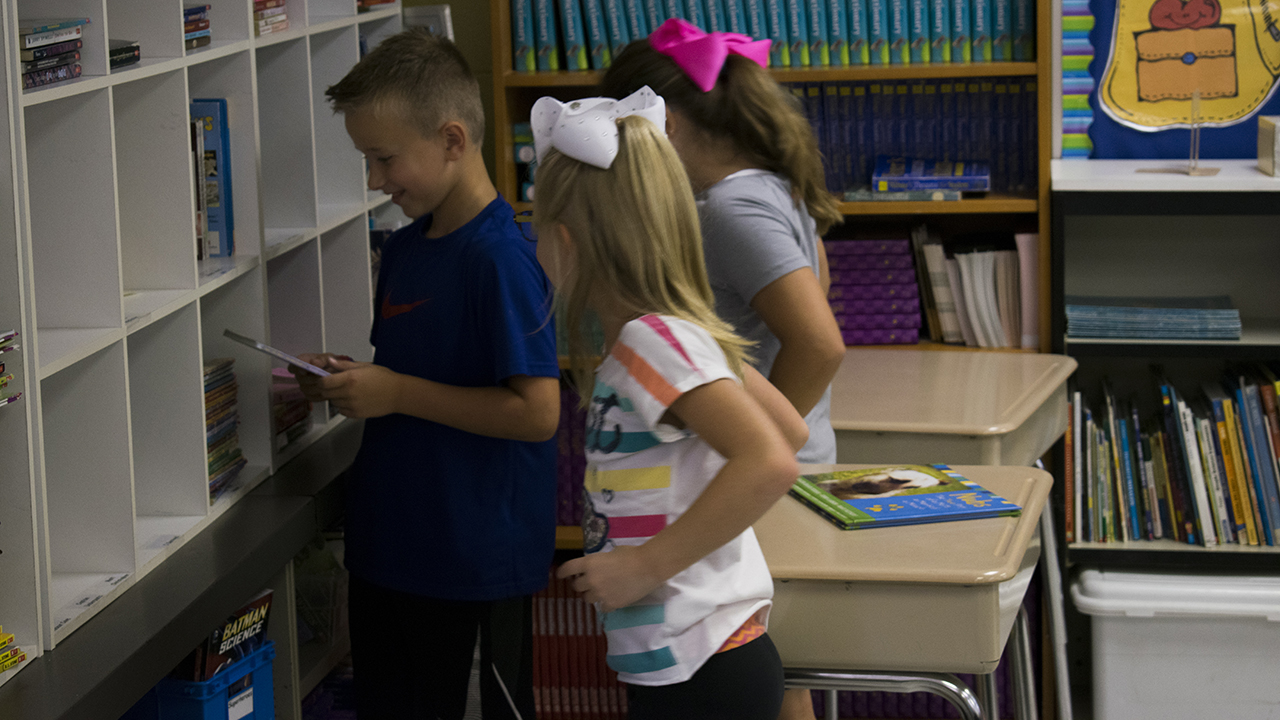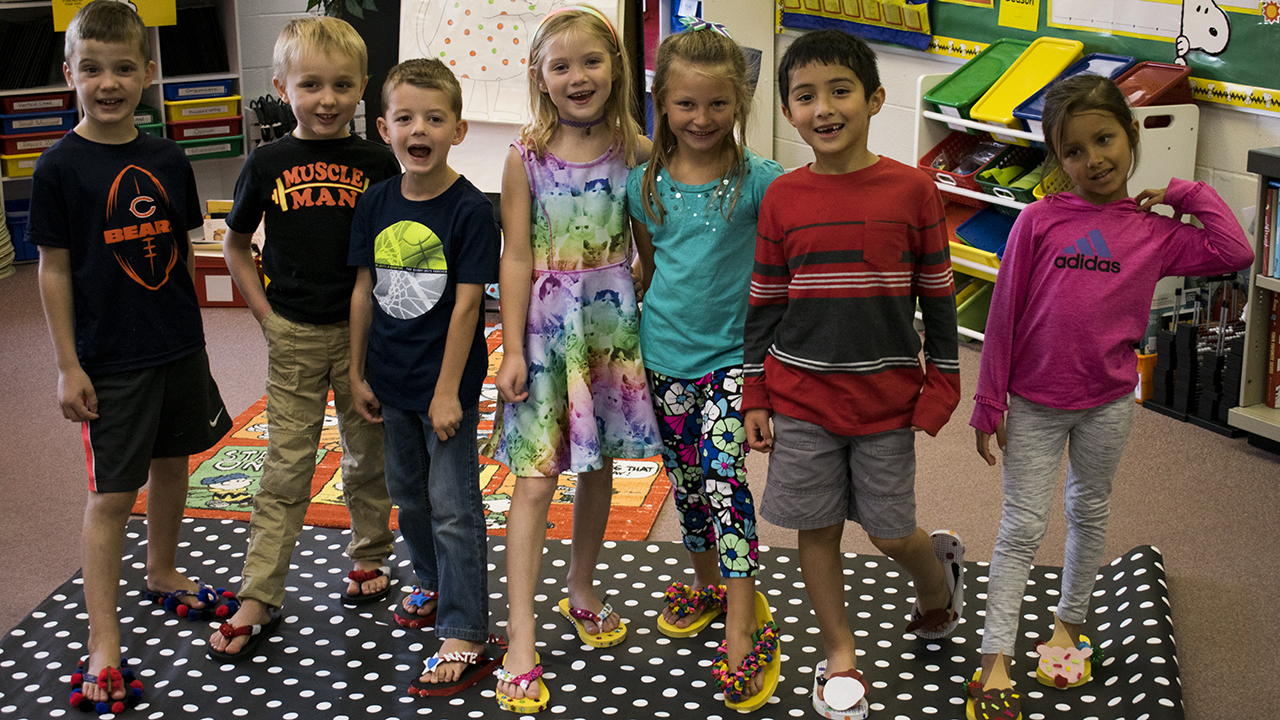 Students in Mrs. Bussey's first grade class showcase the flip flops they created.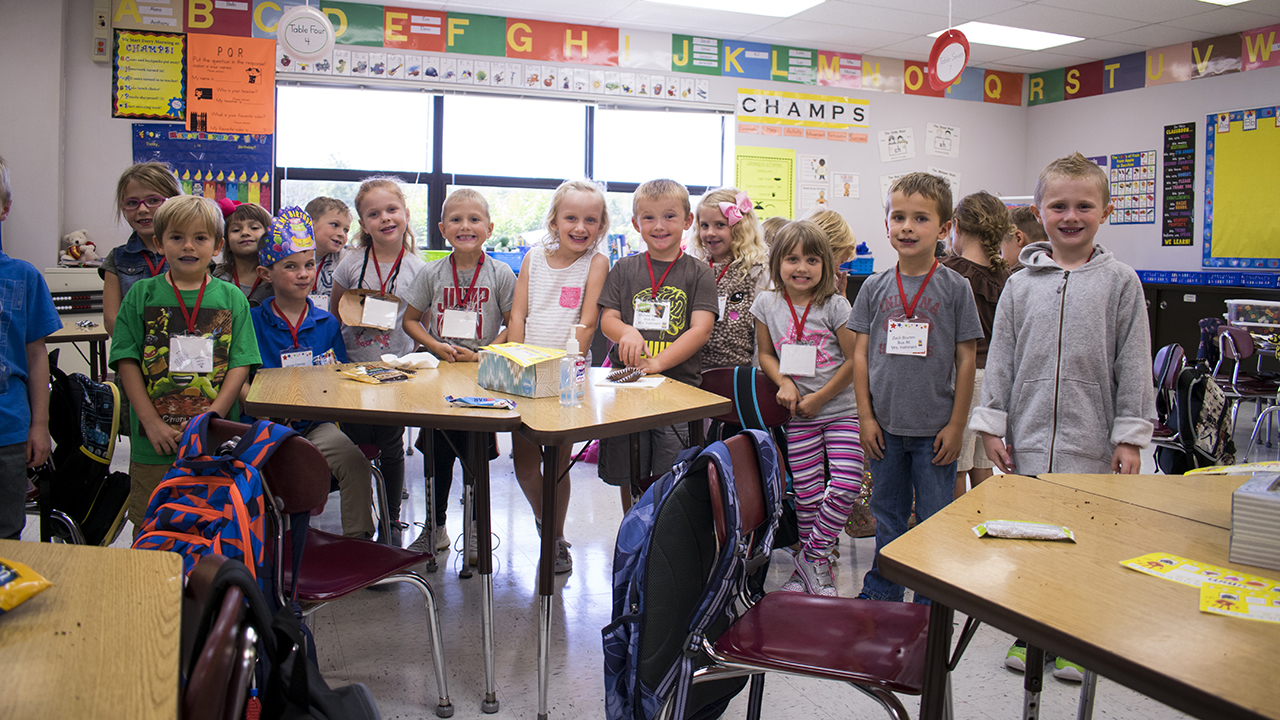 Kindergarten students celebrate a peer's birthday.
Students in Mrs. Pawlak's third grade class begin working on their Oliver K. Woodman project. They decorated the paper and later will have their pictures on the faces of them. Once they are finished, they will send them to relatives in different parts of the country and they will take them on adventures. During these adventures, they will take pictures of the projects and send them back to the students.
Second graders in Mrs. Ranich's class go outside to see the nature trail and write stories. Although the nature trail was blocked off by a tree, students still got the opportunity to sit outside. After time alone writing their stories, they met with their spelling partners to get feedback and suggestions. At the end of the class, two students had the opportunity to sit on the "authors bench" and read their stories to the class.
Kolling hosted their annual funfair on Sept. 15. There was many different activities including games, a dunk tank, inflatables, live entertainment and much more for children and their families to enjoy. There was also different opportunities for students to win different prizes and basket with different items in them.
Third Grade Science Rotations