Teacher Appreciation Week
Mrs. Marsh and the Student Council decorated carts, door entrances, bagged snacks, and much more to prepare for Teacher Appreciation Week the first week in May.
Teachers entered the building on a "red carpet" and were greeted with posters and signs around the building showing them how much they are appreciated.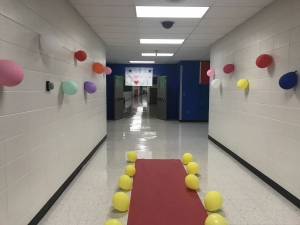 In order to promote kindness within the corporation, Lake Central held its second annual Kindness Week the week of January 25. Kindness week was started because of an idea guidance counselor Ms. Ashley Kline had in October 2019 at a Social Emotional Learning Committee Event.
"The Lake Central High School Social-Emotional Committee is part of a district-wide committee to push social and emotional health. While looking for quarterly or monthly activities, Ms. Kline found the Great Kindness Challenge," Assistant Principal, Mrs. Melissa Rettig said.
Students were encouraged to dress up for the spirit days and complete various kindness challenges throughout the week. Some of the challenges were: hold the door open for someone, write a positive comment on at least three people's picture on social media, and start a conversation with someone you do not normally interact with.
The events of Kindness Week were extended to the three middle schools within the district. All three middle schools adapted kindness week to their building specifically, but all students within the Lake Central School District in grades 5-12 were encouraged to be kind to their peers.
"When you are looking for good behavior, you find it! The ultimate goal is to have people be more kind to each other. Since last year and this year have been successful, we will definitely continue doing this every January," Rettig said.
Eighth-grade girls basketball won against Crown Point Taft 45-37. At the end of the third quarter, Grimmer was down 32-34. The girls used a full court press to take back the game and scored 13 points in the fourth quarter, sealing the victory.
Spirit week was held the week of September 23rd to celebrate school spirit and get excited for the football game against the Kahler Kolts. The Gladyotes won the game 24-18.
Spivak's Sacrifice Demonstration
Ms. Spivak is teaching her history students about the Aztec Culture. The students made authentic Aztec masks and were taught about sacrifices. The Aztec people believed a sacrifice must be made in order for the sun to rise. One night they were too late to sacrifice, yet the sun still rose, thus breaking the cycle of sacrifices.
Lake Central School Corporation
8400 Wicker Avenue, St. John IN, 46373
Pathways to Excellence